Pillow Box Uses
Take a look at the many uses for pillow box packaging! Jewellery, cosmetics, gifts, confectionery, electronics, samples; the list goes on.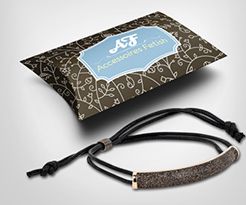 Jewellery and accessories
The perfect presentation for small delicate items, pillow boxes offer a secure and attractive package to hold earrings, bracelets, necklaces, ornamental hair pieces and other small items! Plus, a pillow box gives a bit more wow factor than a standard box or envelope – letting the recipient know that there's something special inside!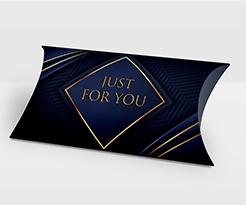 Special events
Consider using pillow boxes for wedding favours, or even gifts for the bridesmaids or groomsmen. The perfect size to hold cufflinks, earrings or even a Maid of Honour on-the-day emergency kit; these pretty packaging solutions can be creatively used for weddings and other special events. Pillow favour boxes will always be remembered and appreciated!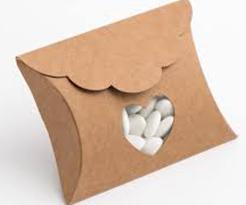 Snacks
Ideal for holding confectionery, chocolate or nuts, pillow boxes can act as snack holders! Perfect for theatres, sweet shops and restaurants; consider using these cute boxes as takeaway bar snack holders. Great for home delivery!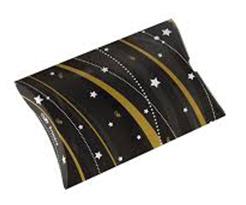 Christmas, Valentine's Day, Birthday presents
Add a touch of class to your presents by designing a festive pillow box. Decorated with a winter scene, covered in love hearts or adorned with birthday balloons, festive pillow boxes can add a little extra wow factor to gifts. Christmas pillow boxes are especially popular!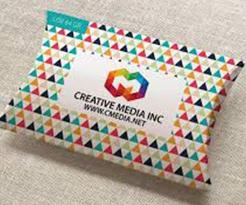 Trade show handouts
Whatever you have to offer, make sure your product packs a punch from the packaging! Potential clients and stockists will be impressed with attractive, branded, pillow box packaging, before they even get to what's inside! Top tip: Print pillow box instructions for your product on the inside of your packaging – your customer can simply unfold and read, without the need for extra paper!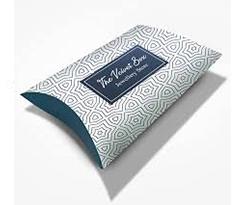 Makeup, hair extensions, cosmetics
Ideal for hair pins, hair ties and small cosmetic items, pillow boxes can be used to attractively package makeup and hair accessories. Consider using silver foiling in the shape of a mirror on your pillow box designed for cosmetics, for a fashionable extra detail!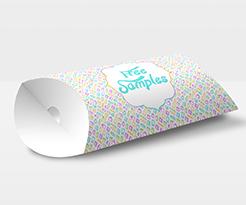 Sampling
What better way to sample your product than in a visually-appealing, branded pillow box? Pillow boxes are attractive and modern, and will give members of the public a good idea of your brand before even opening the box! And, with recycled pillow boxes, you can demonstrate your commitment to the environment at the same time!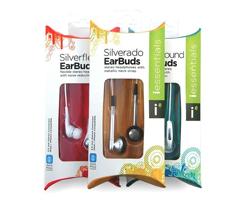 Headphones and small electronics
Perfect for headphones and other small electronics, pillow boxes ensure that your product is packaged in an attractive and secure way. Consider using plastic viewing windows on one side of your pillow box, so customers can see your electronic products, without unfolding the box.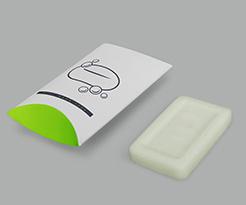 Toiletries
Great for packaging toiletries, especially in a hotel or hospitality setting, where you can have your branding displayed prominently on the packaging. The perfect shape for a bar of soap or some mini toiletries, add a touch of something special by packaging them in a branded pillow box.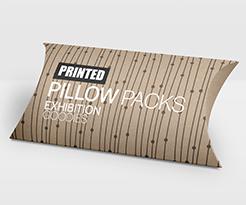 Exhibition freebies
Presenting your freebies in a branded pillow box can create a memorable impression on visitors to your stand, and will set you apart from handouts given away without any attractive or brand specific packaging. Plus, it acts as an extra layer of brand reinforcement, so you'll really stick in the minds of the public.
Need help with preparing your design?
Get in touch for expert advice and support today